What Materials are Found in a Typical YA Collection?
Commonly, the YA materials collection would include:
Graphic novels and comic books

Magazines – general interest and specialized subjects

Some popular magazine titles include:


Teen People
Gamepro
Seventeen
Transworld Skateboarding
Thrasher
Mad

Fiction – popular and classic with a focus on paperbacks

Common fiction genres are:

Historical fiction
Science fiction
Fantasy
Mystery
Suspense
Horror
Adventure
Coming of age
Problem novels
Sports
Humor
Romance

Popular authors to get a collection started are:

Orson Scott Card, Caroline Cooney, Robert Cormier, Chris Crutcher, Peter Dickinson, Lois Duncan, M.E. Kerr, Annette Curtis Klause, Chris Lynch, Walter Dean Myers, Richard Peck, Philip Pullman, William Sleator, Gary Soto, Todd Strasser, Rob Thomas, and Cynthia Voight

Poetry and short stories

Non-fiction that is:

Browsable (quick to find and glean information)
Hi-Lo (high interest-low reading level materials that are perfect for reluctant or below-level readers)
Visual (DK style)

Audio books, music CDs, videos and CD-ROMs
Additional materials in this collection could include career and college materials, "Guinness" books of world records, pro-con (debate oriented) non-fiction, monologues, or any other common subject of interest to your particular YA population.
Some things to consider:
Appearance of the book (cover illustration) is very important
Series are very popular; should be included and viewed first as a way to encourage reluctant readers into making reading a habit, and second, as a stepping stone into stand-alone fiction works
Remember this is a fluid (constantly in state of change) collection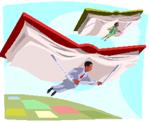 Click the arrow below to continue to the next page