Book Numbers and Author Indicators
After the fiction designation or the DDC classification number is determined for a library item, the second part of creating a unique call number is the Book Number. The book number is made up of indicators for the author, the title, the date and the copy. Not all call numbers will have all of these indicators in their call number, but being able to use these various indicators in the necessary combinations makes it possible to devise a unique call number for each item in the library collection.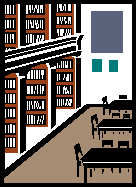 Author indicators can be several different combinations of letter or letters and numbers. The simplest type of author indicator is just the authorís last name, or a specified number of letters from the authorís last name. Examples of this would be:
Full name

TWAIN

CHRISTIE

MACDONALD

Partial name

TWA

CHR

MAC
For larger libraries, using just a portion of the authorís last name does not create specific enough call numbers. If a collection is very sizeable, there are too many authors with those letters in their names. Using the full name, though, may make a call number to long to put on labels. One way to eliminate this problem is to use a name table that creates a letter/number combination to stand for a name.
This type of table can be found commercially published for the purpose of helping in the cataloging process. Most of these commercially produced tables are based on one first developed by Charles Cutter in the late 1800ís. They are often referred to as ĎCutter Tablesí and contain an alphabetical listing of names, along with alphanumeric combinations that can represent those names in book numbers. They are used by finding the authorís last name in the alphabetical listing, and using the indicated combination of letters and numbers to stand for that name in the book number.
FICTION
T911

HUCK

1987

FIC

T911

HUCK

1965

F

T911

HUCK

1998

copy 2
The Cutter tables can also be used for creating book numbers for items that have a title main entry. In these cases, the first word of the title (or second word if the first word is an initial article such as A, AN or THE) is used as the indicator, and it is looked up in the Cutter table. Cutter tables usually combine one to three letters with one to three numbers to create an author indicator. Many times this takes up fewer spaces on a call number label that a full name might, so saves some space for the library staff.
FICTION
T911

H865

1987

FIC

T911

H865

1965

F

T911

H865

1998

copy 2
The Library of Congress has created their own version of an author table by assigning groups of the letters of the alphabet to numbers from 1-9. Using the initial letter in the authorís last name, and replacing other letters with the assigned numbers, creates an alphanumeric indicator. There is no specified length for these LC author numbers, but most libraries quit at 3 or 4 digits. If using these, the library should check for already determined LC author numbers available in copy cataloging or cataloging in publication, and use the established numbers. This eliminates any confusion or duplication of numbers.
Click the arrow below to continue to the next page