Creating the Complete Call Number
Once classification numbers have been assigned for all non-fiction materials being cataloged, the next step is to create the complete call number for each item. This call number is made up of several pieces of information. The top line of a book call number is information indicating whether the item is fiction or non-fiction.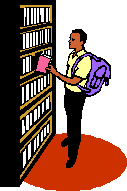 There are several choices for this if the work is fiction. Many libraries put the word 'FICTION', 'FIC', or an 'F' as the top line of a fiction call number, so that it is obvious to the patron that this is a work of fiction. Other libraries just use the author's last name, or portions of that name, as the first line of a fiction call number.
FICTION
TWAIN

HUCK

1987

FIC

TWA

HUCK

1965

F

TWAIN

HUCK

1998

copy 2
For non-fiction books, the first line should be the classification number developed from the use of the DDC schedules and tables. This must have at least three digits, and may be considerably longer, depending on the subject and the level of specificity.
562

ARNOLD

1998

296.4

BLACK

1976

780.78

THOMAS

2000
For non-book items, the first line of the call number for both fiction and non-fiction works may be a term or abbreviation indicating the format of the item. This could be something like 'VIDEO' for videocassettes, or 'CD' for compact discs, or 'COMP' for computer software. There are no widespread standards as to what terminology or abbreviations should be used for this. If a library is creating their call numbers in this way, the terms or abbreviations chosen should be easily understood by the patrons using that collection.
VIDEO

FICTION

POTTER

1997

CD

599.4

BRIT

1999

CASS

783

MOZART

1996
Click the arrow below to continue to the next page