Materials Selection and the Collection Development Policy
As with all collection development processes, materials selection is governed by the library's collection development policy. If you have not already learned about collection development policies please complete Course 1 in this series: Writing a Collection Development Policy before going on with this course
Within your library's collection development policy, there should be specific criteria for selecting different kinds of materials. Some typical criteria that are used in small libraries include:
1. Community interest in the subject matter. There are some subject areas that are of particular interest to the library's community. For school and academic libraries, this interest is typically determined by the needs of the curriculum. For public libraries, interest may be developed by particular events in the community or by a general interest in a subject. For example, libraries in rural areas typically develop collections having to do with farm life. Books about the local area or by local authors would also be included in this category. Interest may also be developed by national publicity for an item. If a book has been plugged on a number of television programs or has been made into a major motion picture, community interest is usually aroused.
2. Patron requests. Many libraries will consider buying an item that has been requested by a patron. Usually this criterion is factored with an estimate of general community interest and with the cost criteria. If an item is likely to be of interest to other community members and is reasonably priced, the library will consider purchasing it. Otherwise, they may get the item on interlibrary loan for the patron, but not purchase a copy for the library.
3. Materials by popular authors. Most public libraries will almost automatically purchase books by authors known to be popular with their users. For example, it is typical for public libraries to order any Stephen King, Mary Higgins Clark, Tom Clancy or Danielle Steele novel whether or not they have received favorable reviews.
4. Collection needs. Some materials are purchased in response to collection needs as demonstrated by a collection assessment. For example, a collection assessment may find that a position on a controversial subject is underrepresented and materials may be purchased to rectify this deficiency.
5. Quality of information. For non-fiction titles, accuracy and reliability of the information is a major concern. Libraries generally want books containing factual information to be as accurate and up-to-date as possible. Organization of the information is also a concern, as are the tools, such as indexes and bibliographies, found within the material to help access the information.
6. Literary merit. Although libraries will collect materials because they are demanded by their communities, libraries also normally desire to collect materials that are well written and have literary merit even if these items may not be as popular.
7. Favorable reviews. Because librarians do not have the time to read or view every item they collect, they rely on reviews to judge the quality of information and literary merit of many of the items they acquire. Libraries typically make many of their purchases based on listings in review sources, which give the names of new materials and impartial reviews of them.
8. Price. Price is always a consideration for libraries. Although an item may meet the criteria above, if it is expensive, the library will have to consider how this purchase will affect the availability of other important resources.
To see how two libraries list these and other materials selection criteria, click on the links below:
Latah County Library District, Moscow

Marshall Public Library, Pocatello
Materials selection is simply applying the criteria in the collection development policy to materials that could be added to the library's collection. If the materials meet the criteria outlined in the collection development policy, and if funds are available, then the materials should be added to the collection. If the materials do not meet the criteria of the collection development policy, they should not be added to the collection.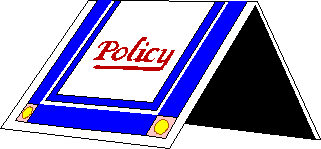 The process sounds easy, but it is more complicated than it sounds. In order to select the best possible materials for the library, a librarian must go through a number of steps. These include:

1. Finding materials that might be acquired by the library.

2. Finding objective information about the quality of materials.

3. Finding out whether the funding is available to purchase the material.

4. Finding out whether the library already owns or has ordered the material.

In this course we will discuss each of these steps.

Click the

arrow below to continue to the next page