Difficult and Disruptive Patrons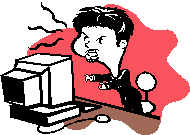 Problem patrons can challenge your ability to provide equal service to everyone. You need to identify why the person is a problem, so you can decide on the appropriate next steps.
The difficult patron is one who tests your patience and your desire to be of any help whatsoever. This may be the demanding user who wants everything right now, the customer who can never seem to find what she needs without your constant help, the man or woman who always brings you a complaint, or even the person who (your nose tells you) seldom bathes. You will need to take extra care and creativity in working with all these people - perhaps even a tactful conversation about the amount of time you can spend with each patron during a busy period - but you are ethically bound to show them respect and courtesy, and to assist them to the best of your ability and the time you have available.
Disruptive patrons, on the other hand, require a different approach. These are people who disturb the library's users or staff with aggressive or bad behavior, such as loud arguments or angry threats. These folks represent a potential danger and must be treated with special care. Remain calm and collect your thoughts. Assess the situation and, if you feel comfortable doing so, ask the patron to accompany you to a quieter area - though not to an office or corner where you could be trapped. If possible, enlist the assistance of another staff member. Calmly ask the person to tell you what's wrong, and listen carefully to the response. Because most people want to feel as though someone else takes their issues seriously, your goal should be both to understand the reason for the outburst and to help the person feel listened to and understood. A good response might be, "I can certainly understand why you feel that way." Usually when people believe their concerns have been heard, they will become less aggressive. You can then talk about what can and can't be done to meet their needs. Explain your policies quietly but firmly. Make it clear that consequences result from not following the rules.
Unfortunately, you may come across some people who are so angry, upset or emotionally troubled that they cannot or will not respond well to a situation such as that described above. When you are dealing with a person who is in some way out of control, it is essential to protect yourself and others in your library. If, at any time, you or others in the library feel threatened, immediately call the appropriate authorities (law enforcement or security staff).
Click the arrow below to continue to the next page